Summer Pool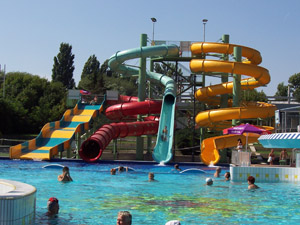 Szeged's most popular summer pool is waiting for its guests!
The summer pool awaits its guests from May to September, where our water-loving guests can find a teaching pool, a swimming pool, an adventure pool with water slides and paddling pools.
Between two sliding our guests can take part in sport animation programs, in order to spend their time in an active way. Under the guidance of sport animators the teams can compete for valuable prizes in various sports, e.g.: beach soccer, foot-tennis, or beach volleyball.
The various programs and events offer great entertainment for every age group. The fantastic atmosphere of the beach parties and sport events ensures that our guests will have exciting pastime in the warm days.